This week's featured state park is First Peoples Buffalo Jump.
Located just outside of Ulm, First Peoples Buffalo Jump is one of the largest buffalo jumps in the United States and is known in the archeology community as the most significant buffalo jump in the world!
The Ulm Pishkun as the park is sometimes referred to was used by Native American's for hundreds of years, you can still find the gathering basin where bison would gather before being forced off of the one-mile-long sandstone cliff. At the base of the cliff, 18 feet of compacted buffalo remains have been found, but it can be difficult to make out distinct items like skulls or other bones after so many years
Be sure to spend at least two hours at First Peoples Buffalo Jump to make time for the many activities!
Did you know?
Remnants of the drive lines used to force buffalo off the cliff can still be seen today!
Did you know?
The cliff isn't incredibly high as too much height would have crushed the buffalo flesh leaving it unusable.
A 6,000 square foot Visitor Center helps to pay homage to both the buffalo and the Native American's who honor it. Inside you'll find buffalo culture exhibits, a circle for storytelling, a classroom, a gallery, and a bookstore! Outside the Visitor Center are an outdoor amphitheater, a few traditional games playing fields, and trails leading to the cliffs above.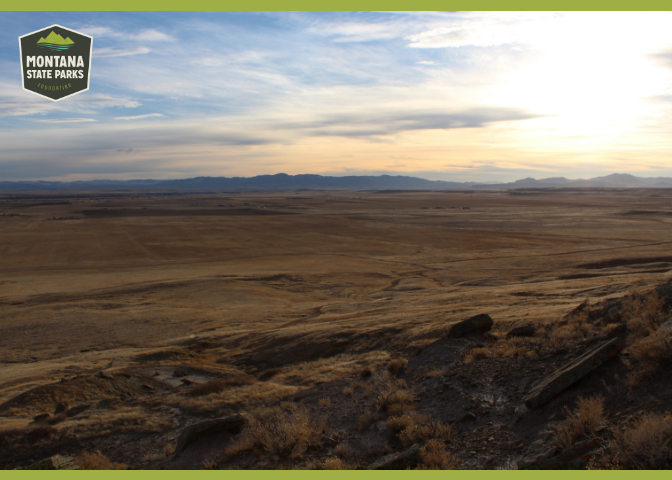 Curious what other visitors have had to say about the park?
"I enjoy visiting with the staff. They are so friendly and informative about the history of FPBJ. It's a great place to learn so much about the Indian Tribes and plains people who were here hundreds of years ago. I encourage everyone to visit First People's Buffalo Jump!!"
"Excellent interpretive exhibits. A wonderful state Park that Montana is lucky to have. Be sure to take the hike up to the top of the cliff. You can drive to the top if you're unable to walk."
"Very interesting place to visit. The visitors center has good displays and a stuffed bison you can touch. You can drive or hike up above the buffalo jump. It's about 1.5 miles to hike up. There is a toilet at the top and a prairie dog town just off the gravel road at the top."
"Wonderful experience and they have a small but informative museum. Would love to go back someday."
"Very informative site to learn about Native American life and culture in Montana."