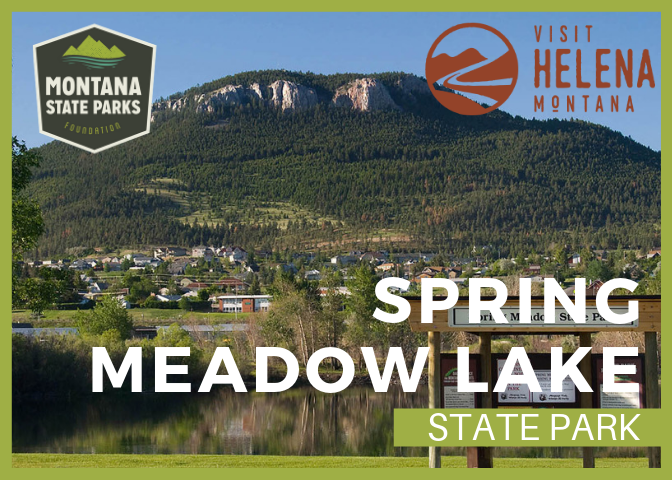 This week's featured state park is Spring Meadow Lake State Park is brought to you by Visit Helena.
Located west of Helena is Spring Meadow Lake State Park, a day-use park, popular for swimming, sunbathing, fishing, and birdwatching.
Spring Meadow Lake State Park is fed by a natural spring that feeds cool, clean water into the lake that is used for fishing, swimming, non-motorized boating, and even scuba diving.  The lake and the state parkland surrounding it were once an active gravel mine that was donated to the state in 1981.
There are great wildlife viewing opportunities at Spring Meadow Lake State Park. You'll find birds, rabbits, turtles, and more!
Looking for a nice walk? A 0.8-mile, self-guided nature trail circles the lake.
If you're in need of a spot to fish, Spring Meadow Lake is your place. The lake is home to trout, bass, and sunfish and there is even an ADA accessible fishing dock added to the park in 2011!
Even in winter Spring Meadow Lake is perfect for recreation. The trail is open all winter and if it's cold enough you can even fish or skate on the lake!
Unfortunately, your four-legged friend will have to stay home during the warmer months. Between April 15 and October 15 there are no dogs allowed in Spring Meadow Lake State Park.
Did you know?
The Spring Meadow Lake area is well known for its bird-watching opportunities!
Curious what other visitors have had to say about the park?
"Great place to take the family out for the day and even get some fishing in. Located right in the heart of Helena, it is not out of the way at all and certainly worth a trip even just to hang out for lunch. The view is really nice especially for being right in town that you would never even know."
"Nice local park, with good scenery, walk/running trail, and fishing pond available."
"I love this park. I fished here a lot during the summer. It's a beautiful place."
"One of my favorites for a quick getaway minute from town. Nice dock and trail improvements for walking and fishing. Super place to take the kids. No pets though from fall thru spring. Wonderful fall colors, and close to Fish, Wildlife and Parks wildlife center, which is great for families."
"Great day on the lake. The staff was very hospitable, too!"